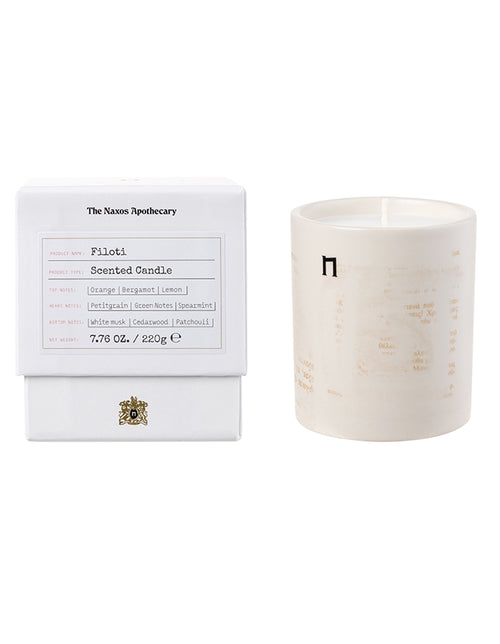 Niche fragrance, rare essential oils. Flickering candle flames, a quiet exoklisi overlooking the mountain slope. Sounds of crickets and the sense that the sea surrounds everything.
Filoti
Scented Candle
265g
Description
Top notes: Orange| Bergamot| Lemon
Heart notes: Petitgrain| Green Notes| Spearmint
Bottom notes: White Musk| Cedarwood| Patchouli
How to Use
Attention! Read and follow the safety instructions and precautions carefully. Keep out of the reach of children and pets. Always put candles on a stable, heat resistant surface away from anything that might make them fall. Keep flammable objects away from flame. Never leave a burning candle unattended. Do not move while it, or until wax hardens. Keep out of drafts. Before lighting a candle, straighten out and trim the wick to 5mm to prevent excess smoking. Never burn a candle for more than four hours at a time. Stop using when there are 12mm wax left. For indoor use only. It is a paraffin wax and contains Linalool, Coumarin, Piperonal. May produce an allergic reaction.
Ingredients
Reviews
The Naxos Apothecary - Filot!
Love this soap! The aroma takes me straight back to Greece :)
Possibly the best scented candles in the world
Natural, fragrant and subtle with high quality ingredients that make me happy
YOUR OWN REVIEW
The Naxos Apothecary - Filot!
Love this soap! The aroma takes me straight back to Greece :)
Possibly the best scented candles in the world
Natural, fragrant and subtle with high quality ingredients that make me happy
Top notes: Orange| Bergamot| Lemon
Heart notes: Petitgrain| Green Notes| Spearmint
Bottom notes: White Musk| Cedarwood| Patchouli